THE CHANCEL CHOIR
(under the direction of Libby Wiebel, Minister of Music)
We're ready to make some joyful noise!
Is this your time to join us? I hope so!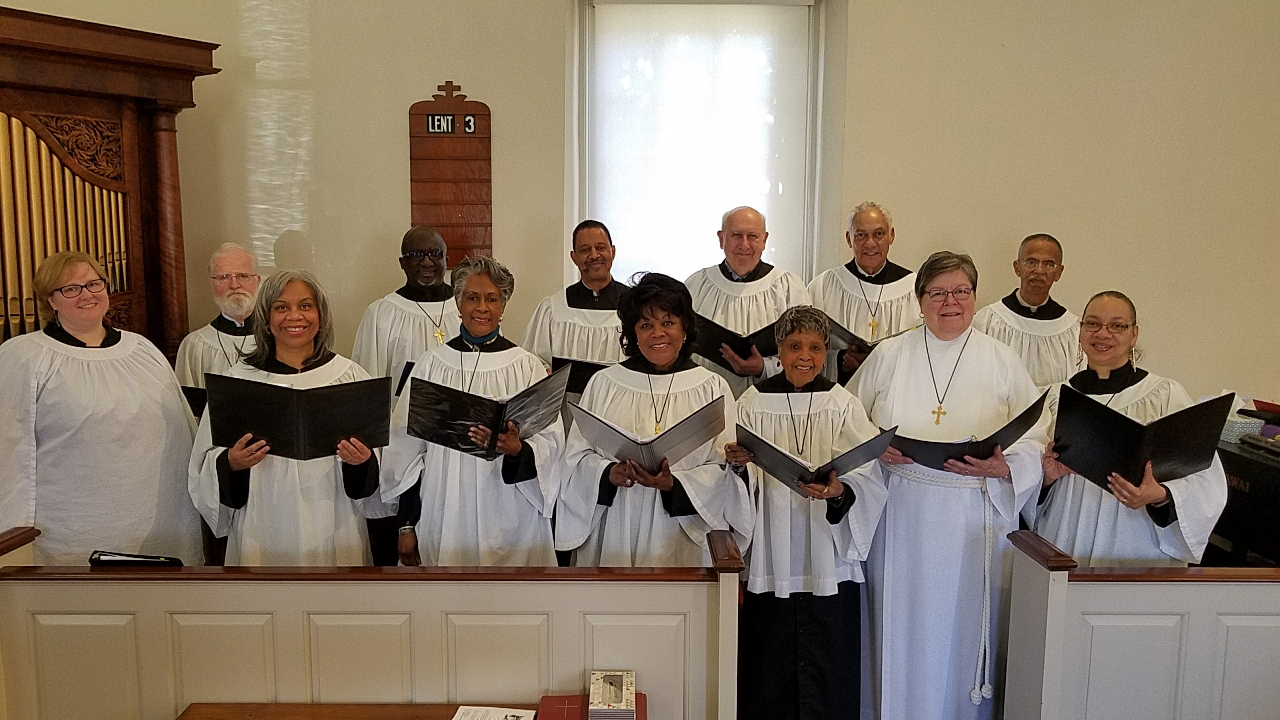 Front Row – Left to Right: Minister of Music Libby Wiebel, Jana Grymes, Marcia Jones, Carletta Jackson, Faith E. Chisholm, Margaret Stevens, Karen Chapman
Back Row – Left to Right: Peter Ulrich, Winston Godwin, Michael Lacy, George Stevens, Charles E. Day, Sr., John Dearing
The Chancel Choir sings regularly at the 10:30 a.m. Eucharist and at numerous special events. The Choir sings a wide range of styles of sacred music from Renaissance to the contemporary.
All teenagers and adults are welcome. Rehearsals begin on September 6 and are held every Thursday night from 7:30 – 8:30 p.m. in the church. We sing on Sundays at the 10:30 a.m. service and at various holiday services throughout the year.
I am also excited to announce that we will also have a choir retreat on Saturday, September 22 from 2:30 – 5 p.m. in the church followed by some time for food and fellowship. All current and prospective choir members are invited. Please RSVP to [email protected] if you plan to attend.
We will be working with guest clinician Mimi Bornstein. Ms. Bornstein is a choral director, song leader, pianist, workshop and worship leader, singer, and composer. Embracing the healing and transformational elements of music and the powerful journeys we take when we sing in community, Ms. Bornstein works across a broad range of settings both locally and nationally. Her music and choral arrangements have been performed nationally and internationally. Choruses under Ms. Bornstein's direction have performed locally and nationally with noted musicians including the Grammy Award-winning Paul Winter Consort, Paul Sullivan, Theresa Thomason and Jonathan Edwards. An active member of the American Choral Director's Association, Chorus America and the Unitarian Universalist Musician's Network (UUMN), Ms. Bornstein has presented workshops at national Chorus America conferences and served on the UUMN board of directors where she helped design and launch their Professional Credentialing Program for church musicians. She has presented workshops and served as choir director and worship leader at numerous national Unitarian Universalist gatherings. Currently, she is a Good Officer and Director of Conferences for UUMN's national conferences.
Currently, Mimi serves as Director of Music Ministries at the Unitarian Universalist Church of Arlington, VA, and as Co-Founder and Artistic Director of Voice United Community Chorus – a non-auditioned, interfaith, multi-racial community chorus in the greater DMV area.
Libby Wiebel, Minister of Music
The last time we worshipped in our Church together was March 8th and +Bishop Chilton was with us. Do you remember that? It seems like ages ago…and like yesterday. We know that stay-at-home orders will end and that we will once again gather around our altar for Holy...